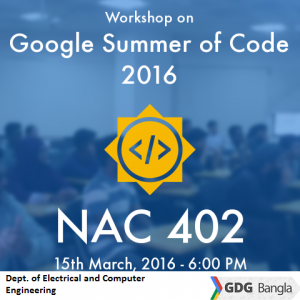 Have some programming experience but not sure what to do next? Want your code to be a part of real-world popular software projects (like Eclipse, Firefox, GitHub and more)? Get your name out there, and get $5500 in your wallet by grabbing the opportunity to dive deep into writing code for these projects, with the help of experienced mentors. Introducing, Google Summer of Code 2016!
Apply -> Get selected -> Write Code -> Get accepted -> Have your name engraved on software like Eclipse or Firefox -> Win $5500! Being cool was never so easy! Want to know more? Attend our workshop conducted by a veteran open source contributor for a deeper insight!
Workshop #1
Date: 15th March 2016
Duration: 1:30 hours
Time: 6:00 PM
Room: NAC 402
Topics:
* Introduction to open source software
* How open source model works
* Benefits of contributing to open source software (Better Career 😀 )
* Introduction to Google Summer of Code
* How GSoC works
* Where to apply and how to apply
You are cordially invited to attend.
Organized by,
Department of Electrical and Computer Engineering,
North South University.