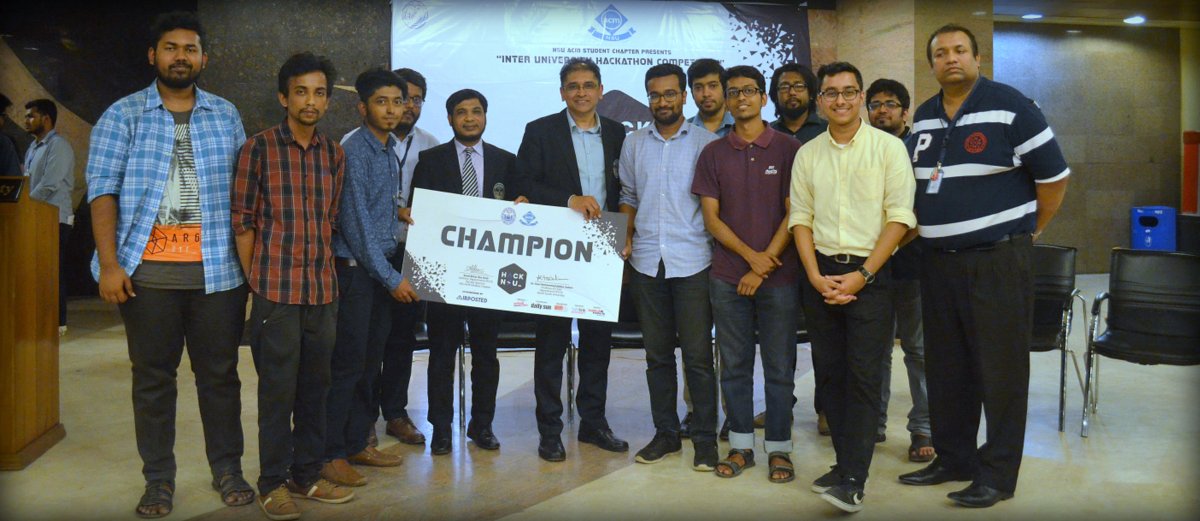 HackNSU, a Hackathon organized by NSU ACM SC and co-sponsored by Airposted, was a great opportunity for students and tech enthusiasts alike. Held on April 4th, 2019, at North South University premises, the programme attracted students from various universities all over the country.
Of the participating teams, in addition to teams from NSU, there were teams and participants from institutions such Bangladesh University of Professionals (BUP), Shahjalal University of Science and Technology (SUST), BRAC University, Ahsanullah University of Science and Technology (AUST) and Bangladesh University of Business and Technology (BUBT). A team from TESOL was also present.
The event was thus enriched by the people of various universities all over the country. Students not only from NSU but other institutions all over Dhaka put their heads together to solve the problems that plague us. The fest was also graced by the presence of many important and distinguished guests. The judges included Mr. Syed Athar Bin Amir, Mr. Rishad Arefin, Mr. Zunayeed Bin Zahir, Mr. AKM Bahalul Hoque, Mr. Shahriar Hossain, and Mr. Shaikh Shawon Arefin Shimon. All of them are Lecturers of the Department of Electrical and Computer Engineering (ECE) at NSU.
Additionally, the prize-giving ceremony at the end was graced by the presence of the Dean of the School of Engineering and Physical Sciences, Professor Dr. Javed Bari, and the Chairman of the ECE Department, Professor Dr. Kazi Mohammad Abdus Salam. Representatives from the co-sponsor of the event, Airposted, were also present.
Over the course of 8 hours, more than 20 teams participated from different universities all over the city, including with their wide range of thoughts competed against each other over two different problems.
The first one was "Issues of Dhaka City", in the context of making a Safer City for everyone. There are many infrastructure-related issues in Dhaka, such as poor road conditions, pollution, lack of proper building construction, etc. Recent events have highlighted these issues, so it is very important that steps are taken to try to solve them. The second was "Academic problems faced by undergraduate students in Bangladesh". As our education is very important both for our future careers and development, it is important that available educational resources are the best and most efficient possible.
Out of the teams vying for the top spot, the champions emerged as Team Green Power from BRAC University. The runner up was Team RNA from North South University and the second runners-up were Teams NSU_Inception from North South University and Sust FireBenders from Shahjalal University of Science and Technology.
The event was a part of ACM-SC's goal to promote and develop the ideas and thoughts of fresh minds across the country and give those ideas a new dimension. It was a huge platform for those who are passionate and searching for an opportunity to showcase their ability to generate new ideas and a new vision. And in the process, they also searched for solutions to the plethora of problems we face every day. Thus, they also get take the first steps towards making their ideas and a brighter future for all of us a reality.