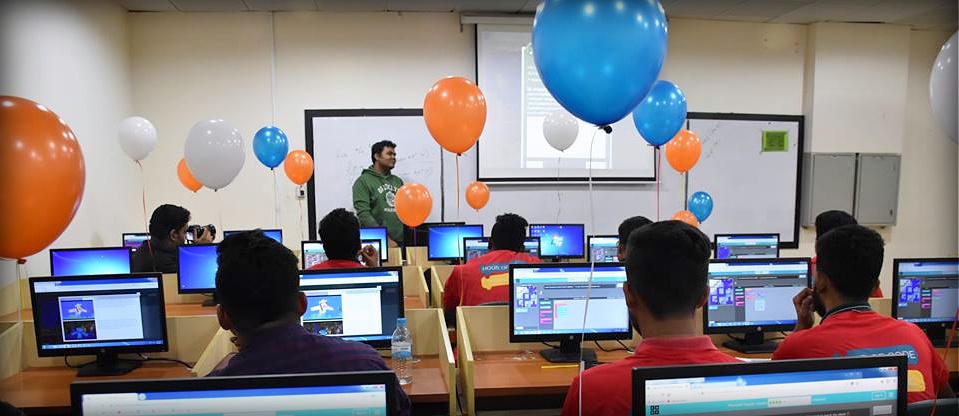 North South University ACM Student chapter has successfully organized "Hour of Code" for the very first time on the 9th of December, 2018. Hour of Code is an event celebrated all over the world where the basic concepts of coding are taught to newcomers in a fun and interesting session that lasts an hour.

NSU ACM student chapter undertook this great initiative in order to celebrate "Computer Science Education Week". The event began on NSU premises at 1 PM with a beautiful ceremony. The Chairman of the ECE Department, Dr. Shazzad Hossain, along with the faculty sponsor of NSU ACM SC Mr. Zunayeed Bin Zahir and other faculty members from the ECE Department graced the event with their presence. The whole gallery had a festive atmosphere with colorful balloons strung all over the area. The participants and volunteers resembled a wave of red, highlighting the title of the event. The event was launched with a grand cutting of a cake by the esteemed faculties of North South University.

The participants then progressed to the computer labs, where the instructors waited to welcome them into the world of programming. There were a significant number of participants from different backgrounds that had never written a single line of code before. They were taught simple programming through fun games and interactive activities. This ensured their concentration and kept them engaged in the session. After completing various difficulty levels of code, the winners were awarded chocolates. The instructors then gave them further guidelines to pursue their journey of coding on their own.

Hour of Code was a great opportunity for all non-CSE students to explore the computing world. It not only helped to overcome the general fear of coding people has, but also informed them that coding can be fun too. This event celebrated coding for all and successfully implanted its slogan "Anyone Can Code!" into the participants' hearts.