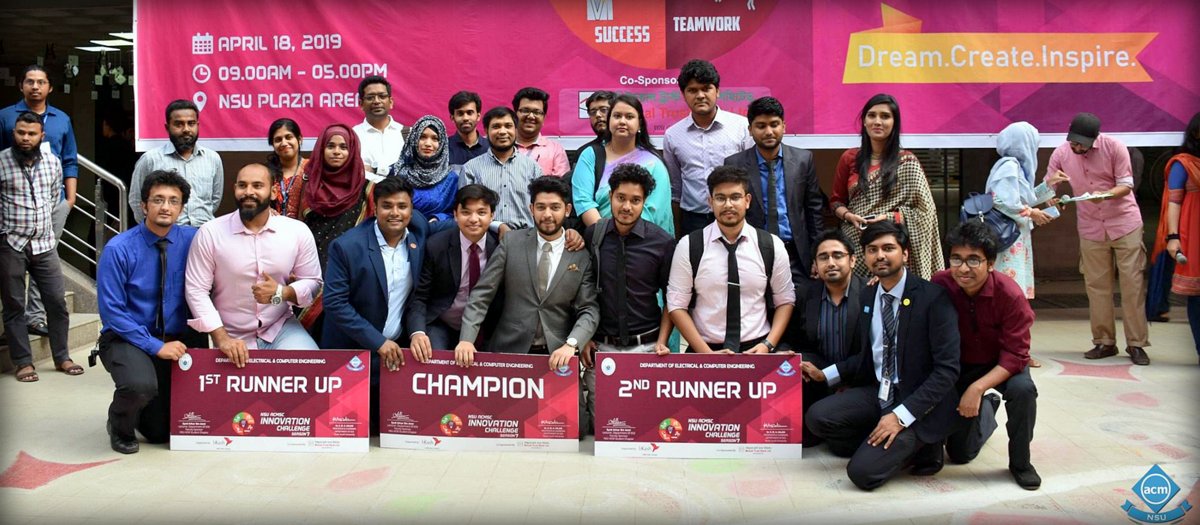 North South University ACM Student Chapter had successfully organized "Innovation Challenge Season 7" on the 18th of April, 2019. The event was held from 9:00 AM – 5:00 PM at North South University. Innovation Challenge 7 was jointly organized by the Department of Electrical and Computer Engineering, North South University and NSU ACM Student Chapter, co-sponsored by Mutual Trust Bank, and supported by bKash, one of the largest mobile financial service providers in Bangladesh. They have previously recruited students of NSU on-campus and were present to establish a rapport with the talented graduating students. The winning projects of ICS7 were:
Champion – ExoArm: Patient Rehabilitation, Mobility and Heavy Lifting using COTS Products
Team Members – Tanjim bin Khalid, Kazi Azmain Faieq and Muhtasim Alam Chowdhury
Supervisor – Dr. Shahnewaj Siddique
First Runner Up – Aquatic Iguana: A Waste Collecting Water Drone
Team Members – Abdullah Md. Humayun Kabir, Tanzina Mollah, Mirza Turesinin and Sadvan Sarwar
Supervisor – Dr. Shazzad Hossain
Second Runners Up – Multi-Robot System in Intruder Detection and Apprehension, Search, Rescue and Disaster Management
Team Members – Mashnoon Islam, Touhid Ahmed, Abu Tammam Bin Nuruddin, Mashuda Islam
Supervisor – Dr. Shahnewaj Siddique
and
IoT Based Submersible ROV for Pisciculture
Team Members – Mehboob Hasan Rohit, Sailanjan Barua, Irin Akter, S M Mujibul Karim and Sharmin Akter
Supervisor – Mr. Mirza Mohammad Lutfe Elahi
The respected judges of the event were: Dr. Nabeel Mohammad, Dr. Sifat Momen, Mr. Zunayed Bin Zahir, Md. Mehjah Uddin (Deputy General Manager, Technology Division, bKash), Ajay Kar (Deputy General Manager, Technology Division, bKash) and Dr. Masud Parvez (Head of Channel Operations and Excellence, Bangladesh). Prof. Dr. G.U. Ahsan, the Pro Vice-Chancellor of NSU, also graced the event with his presence.
NSU ACM SC would like to congratulate all the winners and encourage them to pursue their goals in the future to help develop the industry and nation.