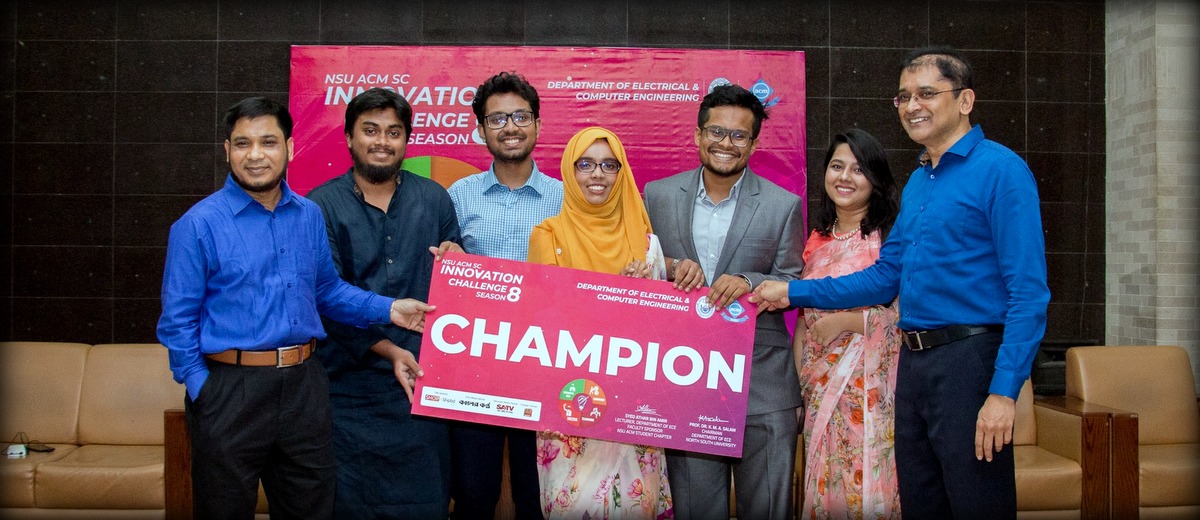 The Innovation Challenge Season 8, organized by NSU ACM SC and sponsored by ShopNShip BD, took place on the 29th of August, 2019. It was a grand affair held in the plaza area of North South University (NSU). The Department of Electrical and Computer Engineering (ECE) of North South University has worked with NSU Association for Computing Machinery Student Chapter (ACM SC) to organize the Innovation Challenge since Spring 2017. They also partnered with Kaler Kantha for print media, SATV for electronic media, Banglalink for strategic coverage and Wedding Eye for photography.
The Innovation Challenge is an opportunity for final year students of the ECE Department to showcase their projects. It is the culmination of their capstone projects, which they built over 8 months. By applying their ingenuity and knowledge, they develop creative technological solutions to various problems. The graduating students can gain recognition from visiting members of the digital sector of Bangladesh. The winners of the IC are given cash rewards.
The judging took place in two rounds: first an online round where the ideas were judged and the best 25 were selected; secondly, live judging on the day of IC S8. The judges were: Assistant Professor Dr. Tanzilur Rahman, Senior Lecturer Mr. Mirza Mohammad Lutfe Elahi, and Lecturers Ms. Ashfia Binte Habib, Mr. Rishad Arefin, Mr. Fahimul Haque and Mr. Syed Athar Bin Amir of the ECE Department of NSU. Additionally, two more Judges from Banglalink were present during the second phase: Mohammad Faysal Khan, Head of Data & Platform Service, Business Service Management and Shafiqur Rahman, Head of Core Service Management, Network Service Management.
The winning projects were – First Place: A Complete Road Health Monitoring System for Bangladesh: Crowdsourced Data Collection through User Application and Smart Analyzer with Real-time Feedback System for Driving Assistance by Md. Sajid Ahmed, Mehreen Hossain Anila, Tamim Abdullah, Taoseef Ishtiak and Mahbuba Tasmin.
The second place went to the project Automated Hydroponic System Using IoT and Cloud Computing, by Ramiza Maliha, Md. Nahid Rahman Ontu and Syed Tahmid Abrar. The third place went to PATRON: Perpetual Abnormality Tracking with Robust Ochlocracy Neutralization, by Tonmoay Deb, Mahieyin Rahmun, Shahriar Ali Bijoy and Mayamin Hamid Raha.
Some other projects received honorable mentions, including An End-to-End Deep Learning Model for Real-time Automatic Detection and Recognition of Bangla License Plates; Smart Agricultural Microinsurance Solution through Machine Learning and Remote Sensing; BanglaKotha: A Bangla Automatic Speech Recognition System; 'KO' Programming Language; 3-SURVIVORS: Rough Terrain Negotiable Teleported Mobile Rescue Robot with Object Detection; and finally Machine Learning-Based Air Pollution Monitoring and Forecasting with IoT System.
Many other projects showcased different approaches to solving problems in Bangladesh and leading towards a brighter future. NSU ACM SC will continue to hold Innovation Challenges every semester to promote the growth of a digital Bangladesh and provide opportunities for graduating students.