The NSU ACM Student Chapter is a student community that drives networking and learning of ACM, the world's largest educational and scientific computing society, at the university through arranging seminars, lectures, learning forums, co-learning programs, competitions and networking opportunities with peers and professionals across the computing spectrum. It is one of the 680 student chapters of ACM established throughout the world that give students opportunities to play active roles in the association and its activities.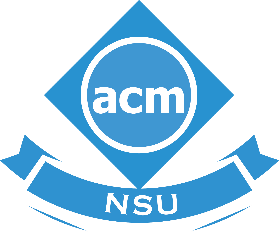 The NSU ACM Student Chapter, introduced in 2016, under the guidance of our honorable faculty, Dr. Shazzad Hossain, aims to assist the members of the university community to excel in the field of computer engineering and computer science, delivering on the promise of North South University to produce quality graduates who are capable of serving the entirety of humanity. In alignment with the mission of the Department of Electrical and Computer Engineering and the vision of ACM, the student branch is primarily focused on providing the university community with self-improvement opportunities through activities similar to workshops, seminars, training programs and competitions through close collaboration the global ACM community. In addition to this, the student chapter also provides opportunities to meet distinguished computing professionals and grow their skills and learn more.
According to the guidelines of ACM, our student chapter is run by  a governing panel under the Department of Electrical and Computer Engineering of North South University.
Faculty Sponsor :  Dr. Shazzad Hossain, Associate Professor, North South University.
Exécutive Committee:
With inclusiveness being one of the core virtues of the student organization, NSU ACM Student Chapter welcomes every member of the university community to join for collectively building a better future for humanity through the use of computing knowledge.
How to join us:
Members are the heart of any community. They are the ones who make a community successful. Keeping up with the ACM chapter rules and regulations, two recruitment (Spring and Fall) are held every academic year. A student willing to join has to meet the following criterion to get selected –
Must not be in probation*
Should have enthusiasm and passion for working with technology and computer science
Hard working
Eagerness to learn and share computer science based knowledge
Affiliated community
Microsoft Student Partners (MSP)
Microsoft Student Partners is an initiative by Microsoft to involve students in spreading technology knowledge among the underprivileged and enabling them to solve various engaging problems using technology. At the heart of the MSP program lies Microsoft's commitment to make technology available for everyone. Microsoft believes students to be the leaders who can change the lives of millions with the knowledge and exposure they get as training and other facilities through the MSP program.
As a committed and responsible community, the members of MSP program arrange seminars and workshops on a variety of areas of technology. Notable of such events are Hack-a-thon, App-a-thon, Windows 10 Developer Day etc. MSP program also lets the members work with and assist Microsoft professionals, attend exclusive Microsoft training events and grow a community of technology-enthusiast students on campus and online.
MSP's are also responsible for on campus Microsoft facilities like Microsoft Imagine Access ( previously known as Dreamspark Premium) which provides Microsoft tools like Windows 10, Visual Studio etc. for free to the active students of the university.
In the recent years, NSU MSP program has achieved enormous success through the brilliance of its members. Many former members of this community, including Rahat Yasir, Shariful Islam Nibir and Faqrul Islam Shaon have been world finalists of Microsoft Imagine Cup. Rahat Yasir has been nominated as one of the Microsoft MVPs for two terms in a row.
For more about NSU  MSP – aka.ms/nsudreamspark
More about NSU ACM Student Chapter –
facebook page – https://www.facebook.com/nsuacmc