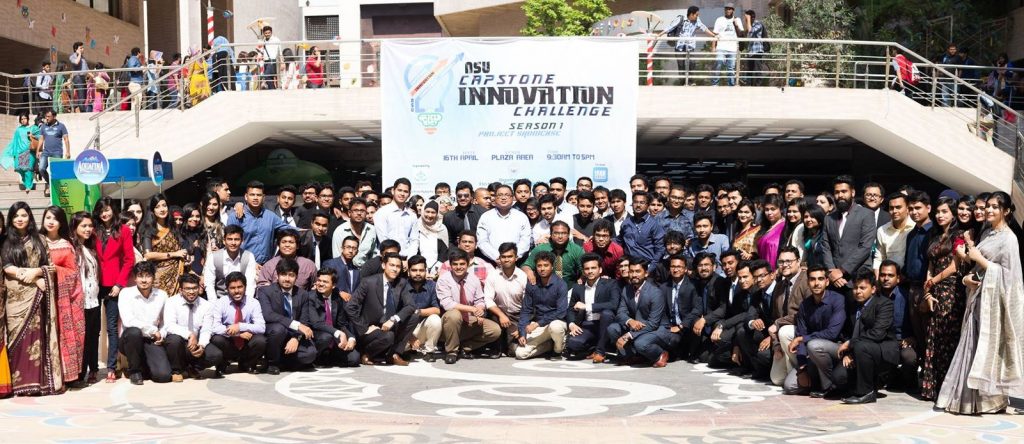 To encourage, enlighten and enrich the students with contemporary theoretical and practical knowledge, a series of events has been organized at North South University in April 2017 at a never-before span.
The Capstone Project is a two-semester process in which students pursue independent research on a project of their choice, engage with the scholarly debates in the relevant disciplines, and with the guidance of a faculty mentor, proceed towards proper implementation. Department of ECE (Electrical and Computer Engineering), NSU has been arranging the 'Capstone Design Project' which involves multidisciplinary teams of students who build and test custom designed engineering processes.
With a view to adding a new level of enthusiasm in this mandatory graded task of students, NSU ACM Student Chapter has initiated the 'NSU Capstone Innovation Challenge'. The motivation of this redesign comes from the purpose to let the students interact with industry personnel and evaluate their own projects from industry perspective so that they can receive a real-life experience on how to go forward with their ideas and materialize their own business.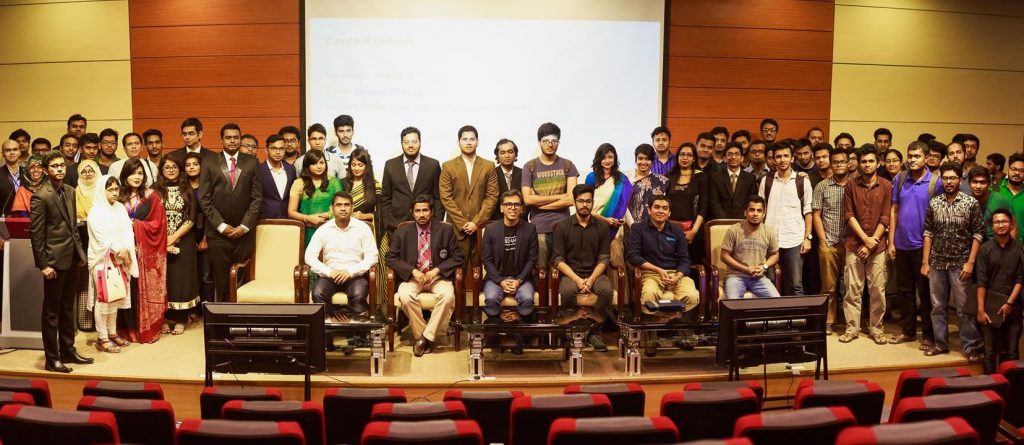 On April 2nd, 2017, 'Connecting the dots'- an interactive session as first phase of 'NSU Capstone Innovation Challenge Season-1' was arranged. Respected CEOs from different companies, namely – CEO of SHEBA.XYZ, Adnan Imtiaz Halim; CEO of Cramstack Mir Sakib (NSU alumni); and the CEO of SD Asia and a director of GP Accelerator, Mustafizur R Khan who works as the active coordinator between startup founders and investor shared their thoughts. From the academic side, there were speakers like Dr. M. Rokonuzzaman and Dr. Md. Shahedul Alam from NSU. Lastly, Md. Abdul Jabber, System validation engineer at Intel corporation, shared some of his experiences. The session was aimed to share the valuable experience of some of the entrepreneurs of tech companies of our country with the students for inspiring them to realize their projects into real life projects from capstone project.
After the first session, ACM Student Chapter had a radio session at ABC Radio FM 89.2 about 'Capstone Innovation Challenge' which was aired on April 3, 2017.
The second phase was the 'Capstone Project Showcase', held on 16th April, 2017. Participating 140 students in 45 groups presented their projects which were open for all the students, faculties and other members of university to visit and ask questions. Respected state minister of the ministry of labor and employment, MD. Mujibul Haque visited the stalls and praised efforts of the participants. Some of the noteworthy projects were – hand-glove controlled wheel-chair, hospital automation, magnetic levitation train and some management based systems; also some useful mobile application like Rideshare, Smart meter with useful purposes for everyday life.
Stalls with projects of engineers come once in a semester and hence the students didn't miss the opportunity. Participants were busy in making the visitors understand the value of their projects. The whole area had a festive look all day long.
On the same day, the 'Big Data Seminar' went on from 3 to 5 p.m.
The amount of data in our world has been exploding and analyzing large data sets – called big data – will become a key basis of competition, underpinning new waves of productivity growth, innovation, and consumer surplus. To extract meaningful value from big data, one needs optimal processing power, analytics capabilities and skills. From the context of our country, computer science major university students in Bangladesh are not sufficiently familiar with such state of the art contemporary concept. To bring an insight to big data and tools to handle it, NSU arranged the seminar from the ECE department. Prominent personnel of tech industry of Bangladesh were invited to share their views on how students should be trained on big data field to help them adjust in industry.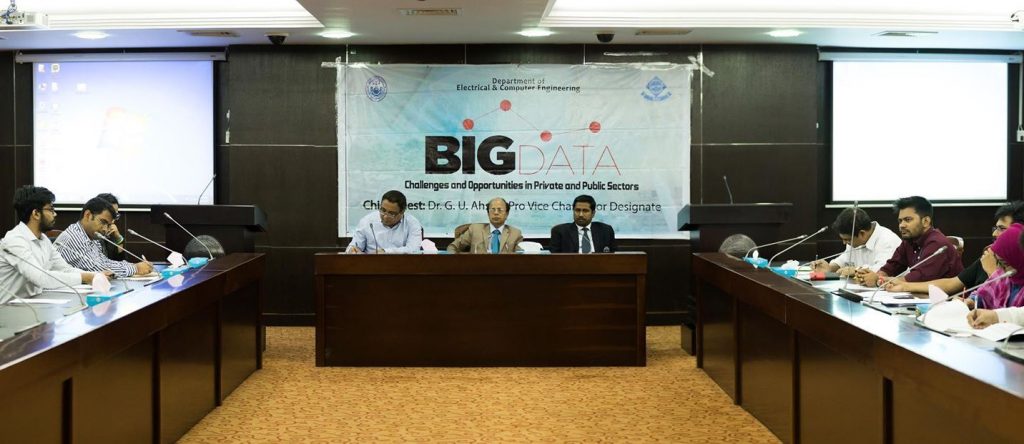 The seminar started by the welcome speech of Dr Rezaul Bari, Chairman, ECE department. Then Dr. Shazzad Hossain gave a short introduction on the objective of the session. The session chair was adorned by Dr. G U Ahsan, Pro Vice Chancellor Designate, NSU. Also Dr. Sirajul Islam, Dean of School of Engineering Physical Science was present there.
From tech industry of Bangladesh, there were representatives from Grameenphone, REVE System, Leads Corporation, Business accelerate BD Ltd and CramStack. Also faculties from NSU were present as active speakers of the seminar. They shared their opinion about nature of data, storage mechanism, works on companies on this field, tools used to deal with it and how university – industry can collaborate to move towards greater goal for all.
The session chair, Dr. G U Ahsan shared in his concluding speech that NSU has the sole aim to create world-class competent graduates and this seminar was just a step ahead to that on-going effort.  As a leading private university, NSU promises to provide all types of required training to the students to let them fit in the competent job market.