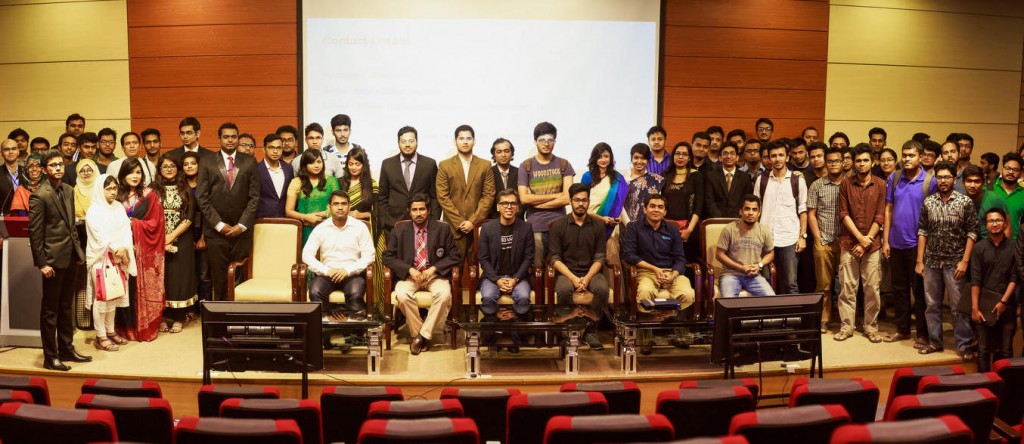 North South University's Electrical and Computer Engineering Department, in support with the student chapter of A.C.M (NSU ACM Student Chapter) – the world's largest computing society, is organizing NSU Capstone Innovation Challenge 2017.  On April 2nd, the Season 1 of Capstone Innovation Challenge 2017 kicked off with the event, "Connecting the Dots". The aim of this event was to motivate students to use their imagination and come up with the next innovative thing and also how to materialize their ideas in a practical manner that is both feasible and economically viable.
 The program was presided over by the dean of School of Engineering and Physical Sciences of NSU, Prof. Md. Sirajul Islam, PhD. He was the Session Chair of the event. The program started with a speech from associate professor of Department of ECE and faculty adviser of NSU ACM Student Chapter, Dr.  Shazzad Hossain, in which he explained the process, application, effect and necessity of Capstone projects. The final year students collaborate in groups of four members and utilize the knowledge and expertise they have accumulated during their undergraduate years to make their capstone projects. The design and implementation of these projects is done through two courses over a span of eight months.  He also stated that with the growing number of startups in Bangladesh and young students eager to push and work hard with their ideas, NSU ACM Student Chapter is organizing NSU Capstone Innovation Challenge to help them link up their ideas with the industry and also trying to bring a positive change in the society through the use of technology.
After his speech, the guest speakers were invited on stage to share their valuable experiences in their respective fields. Adnan Imtiaz Halim, CEO of SHEBA.XYZ, shared his experience about the start-up of his own. He also gave valuable tips for the young students who would go on to build their own start-ups. The next guest was Mir Sakib, CEO of Cramstack, who is also an alumnus of NSU. He shared his view on the age of information, and how it can be very powerful in this era, and how his start-up uses modern technologies like Artificial Intelligence and Natural Language Processing to make data analysis easy for common people. Then, Mustafizur R Khan, the CEO of SD Asia and a director of GP Accelerator, in his speech he gave the students important advice in light of his years of experience in marketing, investing and helping start-ups grow, and showed the young entrepreneurs a way to climb to the top. Professor Dr. Rokonuzzaman from North South University's depart ment of ECE, also graced the event with his speech. He gave importance on sustainable development and pointed out the reasons why startups without future vision are dying out or have gone extinct. Assistant Professor of the Management department of North South University, Dr. Md Shahedul Alam stated the present and future of innovation entities. Other academics from the ECE department, NSU, including Silvia Ahmed, Dr. Rajesh Palit, Dr. Md. Hasanuzzaman, Dr. Abdus Salam Khan, Rezaul Islam were also present at the session.
The session also had a special guest speaker, System Validation Engineer at Intel Denmark, Mr. Abdul Jabbar. He emphasized on the importance of programming skills and putting them to practice to build something, participating in hackathons etc.
After the speakers gave their valuable speeches, some of the best projects from this year's Capstone Design were displayed.
The first project to be presented was – "Design and Development of Hand-glove Controlled Wheelchair using Arduino and Xbee". The idea is to build a hand-glove controlled wheelchair with the hand-glove as the controller using flex sensor and gyroscope.
The second applauded project was Chill Pill – a futuristic concept of a medicine box that aids elderly people in their daily health care. It minimizes the gap between patients and doctors by allowing doctors to directly assign medicines to a patient using Android App.
The final project for display was "A Safe and Affordable Ride Sharing Mobile Application for Students", which was a ride provider app for students. Students using this app was to facilitate car pooling to combat traffic jam of Dhaka city.
After the project presentation, Dr. Md Sirajul Islam thanked everyone for coming and talked about NSU being the pioneer in bringing such project based initiative as a course for the students in Bangladesh, he also talked about the importance of having such initiatives and how they help in the long run.
The session ended with a vote of thanks from the Chairman of NSU ACM Student Chapter Aziz Arman. He thanked everyone for attending the session and invited them to join again on the 16th of this month for the Project Showcase.